Primero "Tier 4" Local Server Deployment
Resources Allocation and Work Plan
Guidance:
Architecture for partner-hosted server
Demo server hosted by UNICEF (Primero Team responsibilities):
Implementation support including the implementation planning, documentation, forms mapping, configuration of the system, quality assurance, training for go-live and as the system scales up

Role configuration and localization in any language

Production support provided through the Support Hub

Implementation of Primero including deployment of the system (deploys a secure kubernetes-based CPIMS+ Demo instance with a Primero URL) which is maintained with the most up-to-date releases and updates and support for user acceptance testing (if required)

Hosting of the demo-instance by UNICEF's ICTD (if required) with security, DNS, and GDPR features

Once live, the demo environment is used for

configuration testing and configuration promotion

to the partner-hosted production environment
Production server hosted by local partners:
Partners are responsible for all infrastructure including setting up servers, hosting, setting up monitoring and security measures, data durability/data storage, backups, DNS, and configuration of the alpha and production instance

Partners are responsible for owning, protecting and securing the data

Partners are responsible for the

installation of Primero

and are are able to access the open-source documentation on the

Primero Github repository

which has instructions on installing the system and have full access to the

Primero Support Hub

To verify the

configuration has been promoted

from the UNICEF-hosted demo server
Stakeholder Roles and Responsibilities:
| | | |
| --- | --- | --- |
| Actors | Focal Point | Responsibility |
| | | |
Setting Local Production Server
Checklist for local production server
From here
| | |
| --- | --- |
| Hardware Requirement | |
| Software Requirement | |
| Networking Rules | |
| Security Requirements | |
| Data Backup and Disaster recovery | |
| DNS/TLS security certificate | |
| Support level agreement | |
Hardware Requirements
8+ GM memory is preferred.
2 CPU cores (2.5GHz, Intel Xeon)

Storage: 500GB or more
Software Requirements
Networking Rules
Public accessible domain

All permitted outbound traffic:
Ubuntu/Canonical package repositories, Dockerhub, Azure Devops repos,optionally Let's Encrypt.
Inbound traffic permitted on ports 80, 443

Inbound traffic permitted on port 22 (can be from a whitelisted Azure domain)

A passwordless non-root user with passwordless sudo privileges accessible only via SSH
Security Requirements:
Please find in detail and methods for checking here
Operating system patches up to date

Core dumps disabled

All Unnecessary services should be made unavailable

Disable system accounts

Strong PAM password quality

Password policy configured

SSH Configuration hardened

No Unauthorized world-writable files

Mount options not hardened

SUID core dumps should be disabled

Dynamic network configuration

NFS and/or RPC services disabled

Networking hardening

IPv6 support disabled

Use TCPWrappers

Server should send logs to a remote LogHost

Strong log file permissions

Syslog and log rotation configured properly

Firewall
Data backups and disaster recovery
External storage or Other methodology
DNS/TLS Security Certificate
Security certificate or Let's Encrypt

Support Level Agreement
It is mutually agreed that first level support (meaning that if the server faces any down time) the partner is responsible for trouble shooting at the first. If the issues has to be escalated, it will go through the

support hub

.
Ansible for promoting Configuration
---
Architecture for Interoperability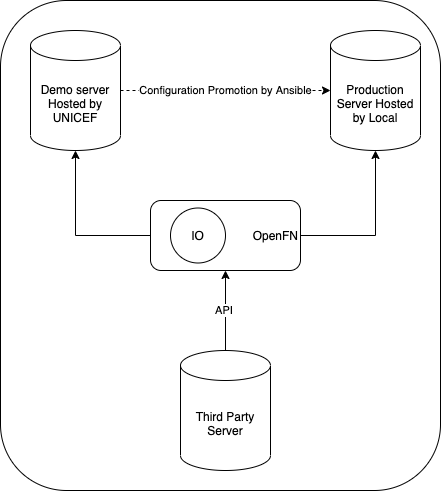 Openfunction Hosting Interoperability Requirements
OpenFN will provided 2 project webhooks
Production webhook project
Limiting only partner accessing the production site.

Real data is utilized in the production server.

It is connect to real API data
Allowing related people access the alpha site for testing and developing purposes.

Dummy data is not real so it is not violencing data confidentiality.

It is connected to dummy API data
OpenFN hosts all the interoperability for alpha site and production site.

There are no resources acquired from UNICEF, and the Partner.